How to Get Started as a Seller on Acquire.com
Hey there, thanks for thinking of selling your startup with Acquire.com!
We'll do our best to get you acquired quickly, easily, and for the highest price.
But first – you need to create your seller account. It's super easy. Just head to the seller homepage, click Join now, and then following the on-screen instructions.
We'll guide you through the whole process from beginning to end.
In the meantime, here's a brief overview of how it all works.
Creating a Seller Account and Listing Your Startup
Creating your account and listing your startup has never been easier.
It involves just three basic steps:
1. Sign Up for Free
You can sign up with email or LinkedIn. We recommend signing up with LinkedIn if possible as it adds another layer of verification and creates more trust in the marketplace.
Next, you need to complete and verify your profile. Simply enter a few details about yourself and your goals, and then upload some ID through our verification platform, Persona.
Once you're verified, you'll receive the Verified badge on your profile, which shows everyone in the marketplace you're a legitimate and trusted founder.
Check out the GIF below to view the sign-up and verification process.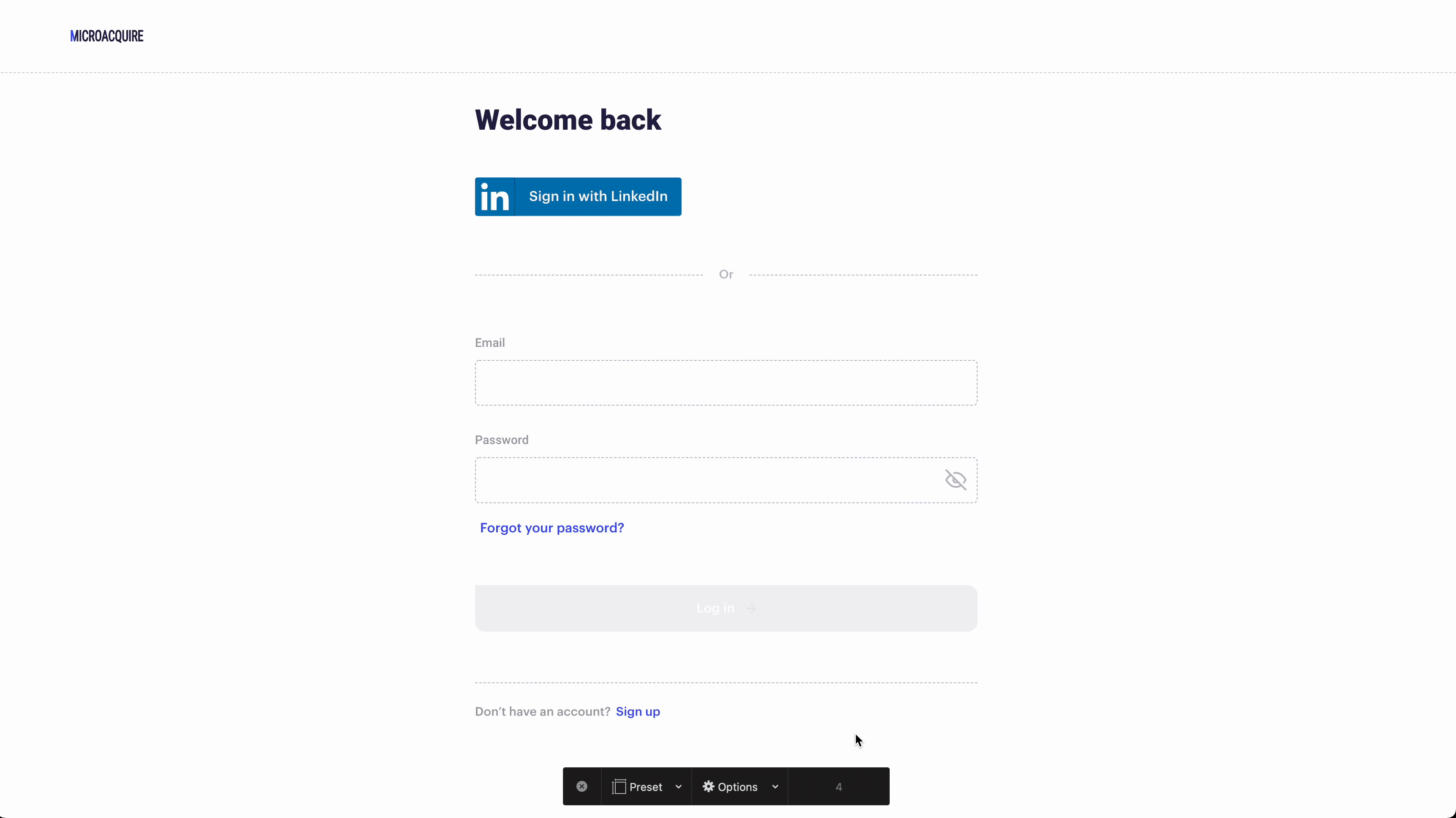 2. Enter Your Startup Details
The next step is to complete your listing details. This includes entering basic information about your startup as well as connecting your performance metrics through platforms like ChartMogul, ProfitWell, Google Analytics, Stripe, and more.
It can take around 15 minutes to complete your startup information, but please don't let that put you off. The more information you include, and the more accurate, the more buyer interest you'll attract. It also helps us match you to the right buyers to save you wasting time later.
You retain full control of your listing at all times. In other words, buyers can only see anonymized data until you grant them access to your startup. While completing your profile, you can choose to grant access manually or automatically (we suggest the latter to attract more offers).
Check out the GIF below to view the listing process.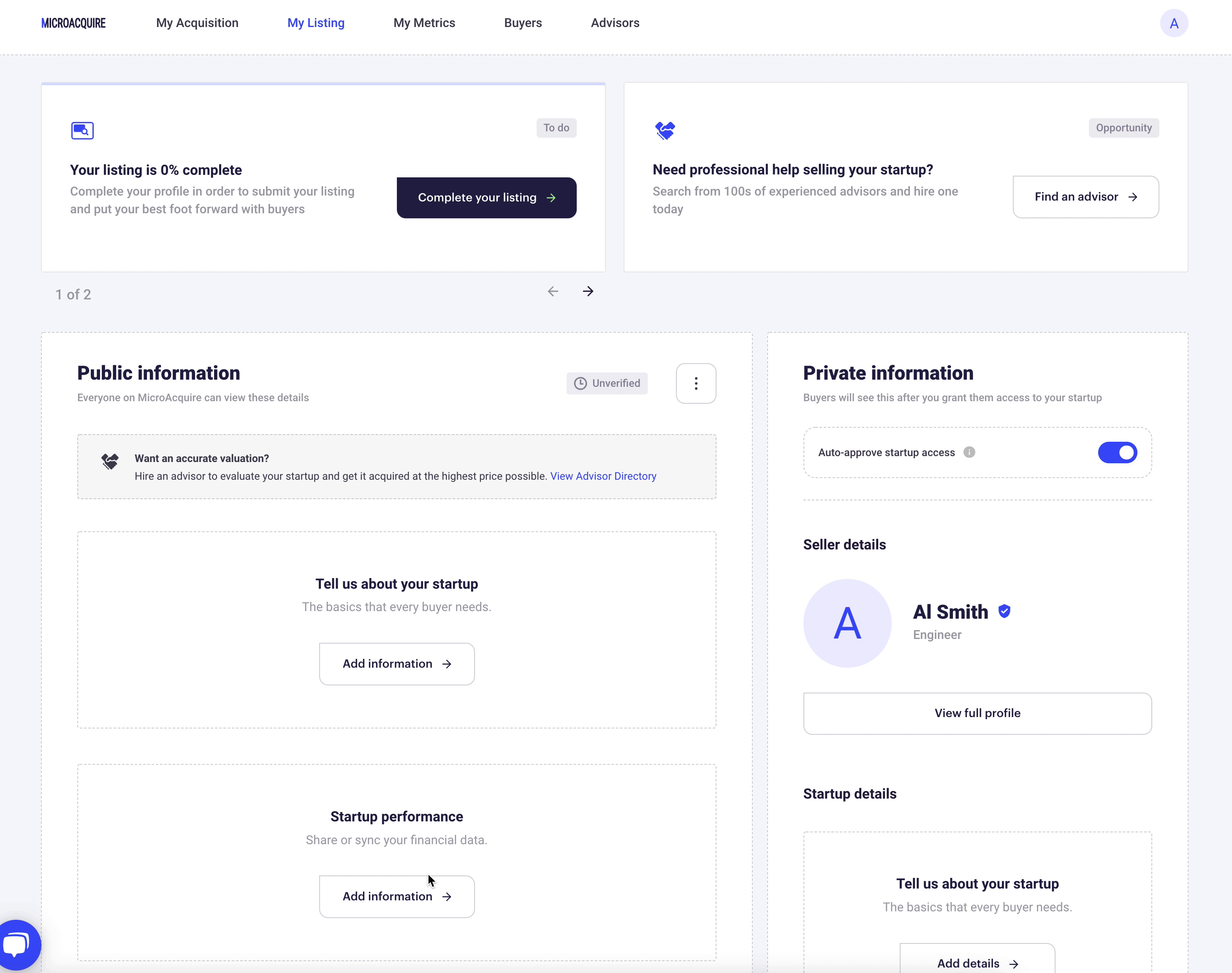 3. List Your Startup on the Marketplace
Finally, it's time to list your startup. Our curation team will review your listing and respond with a decision to list or reject your startup in just one business day. If it's a rejection, we'll explain why and how to fix it (if possible), otherwise your startup will go live as soon as it's approved.
You're welcome to edit your listing once it goes live, but any changes will go through our curation team so we can maintain the integrity of the marketplace. As usual, this takes one business day, so please bear that in mind when editing your listing.
Once Your Listing Is Live: Get MicroAcquire'd with our Guided Acquisition Process
Once listed, you'll then move into our guided acquisition process (GAP).
This is just five basic steps:
1. Evaluate buyers
2. Field offers
3. Pass due diligence
4. Escrow & transfer
5. MicroAcquire'd!
You'll find GAP under My Acquisition in the top menu when you're logged in.
GAP consolidates streamlines multiple acquisition processes into a single workflow, making it super easy to manage and track your acquisition from beginning to end.
The acquisition stages are on the left, interested buyers and actions in the centre, and tips and resources on the right.
GAP will lead you through each stage of your acquisition, so you don't need to juggle different systems and third-parties to navigate the process.
For a full breakdown of how GAP works, check out our blog. Otherwise, check out the GIF below to see how it works in practice.