A guide to closing safely with Escrow.com
Buying a business online can feel a bit daunting. How can you ensure you get what you paid for? The answer is with a trusted escrow service.
When you buy a business on Acquire.com, you benefit from free escrow from Escrow.com. As a neutral third party, Escrow.com manages your transaction to prevent fraud and ensure you walk away from the deal happy.
Below is a step-by-step guide to closing your acquisition with Escrow.com.
Send escrow details to the seller
The first stage is to build your escrow transaction in Acquire.com and then send the details for the seller to accept.
If you used our APA builder, the escrow builder will pull deal information through automatically. You'll manually enter this information if you uploaded your own APA. For more details about filling out the escrow builder after uploading an APA, watch the video below.
---
1. Click Start escrow.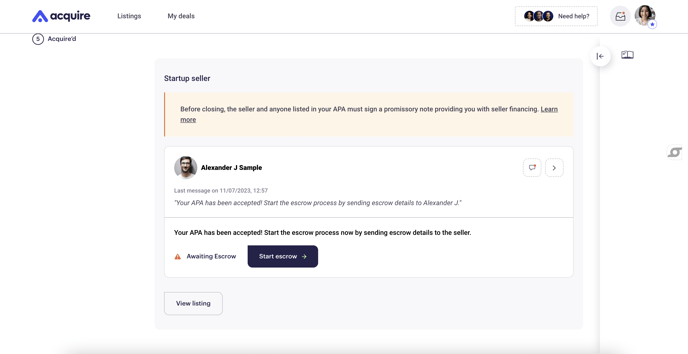 2. Click Awesome, let's start.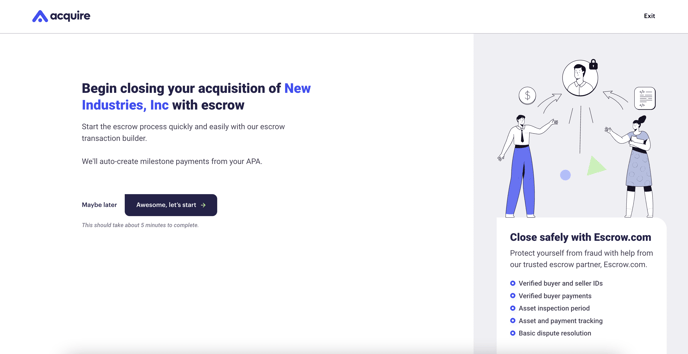 3. Enter the email address you'll use to create your Escrow.com account. If you already have an Escrow.com account, update your email address here to use the same one.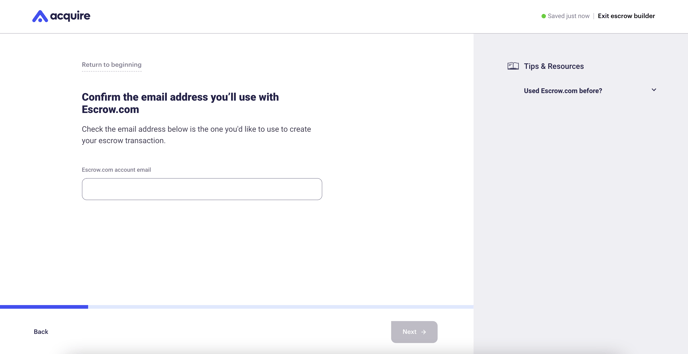 4. Review the closing payment and asset details. Then click Next.
The inspection period for each asset defaults to 24 hours (minimum), but you can change this if you want by clicking View and updating the period for each asset.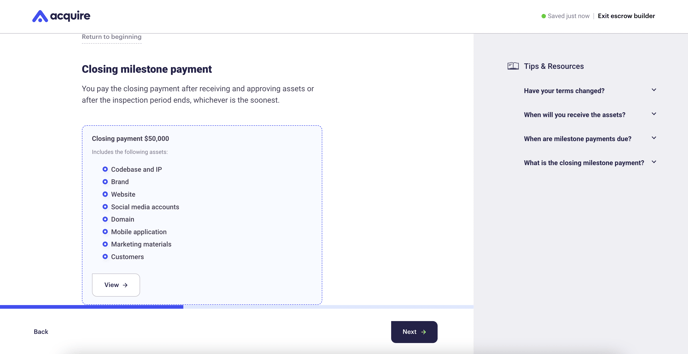 5. Review any post-closing milestone payments. Then click Next.
You can't update any acquisition deal details that have been formalized in your APA. If you want to change a condition or update the purchase price, you'll need to cancel your APA (with the seller's consent), revise it, and then re-start escrow.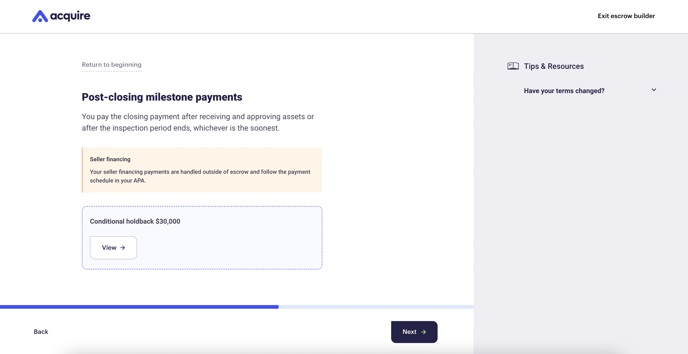 6. Review the escrow summary and then click Send escrow details.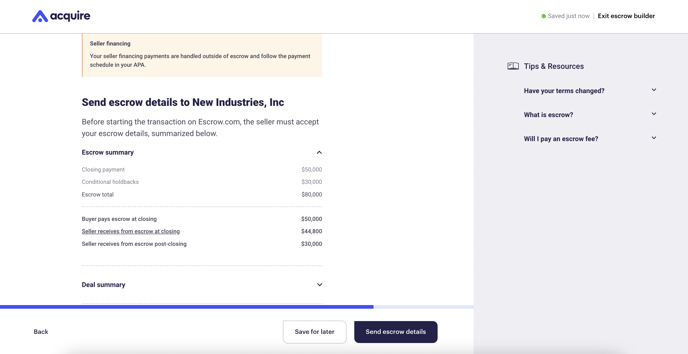 7. You'll now see the screen below confirming your escrow details have been sent to the seller.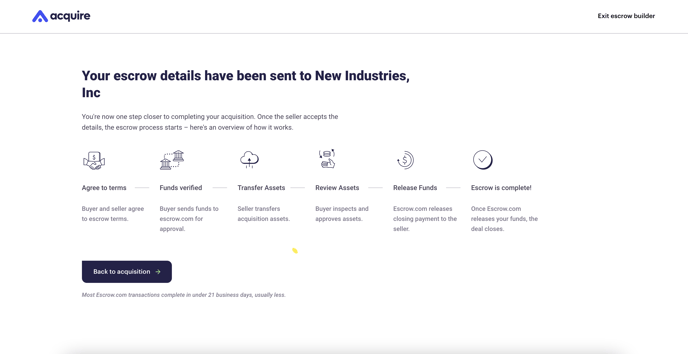 Agree to terms on Escrow.com
The Escrow.com screens and process below might vary if Escrow.com later updates its user interface. If you're unsure, please email support@escrow.com.
8. When the seller accepts your proposed escrow details, your My deals dashboard will update. Click Agree to terms to move to Escrow.com.
If the seller rejects your escrow details, ask them why (if they've not given a reason in their rejection message) and then revise and re-send your escrow details.
9. Once you create your Escrow.com password, you'll enter the screen below. Click Agree to create your escrow transaction.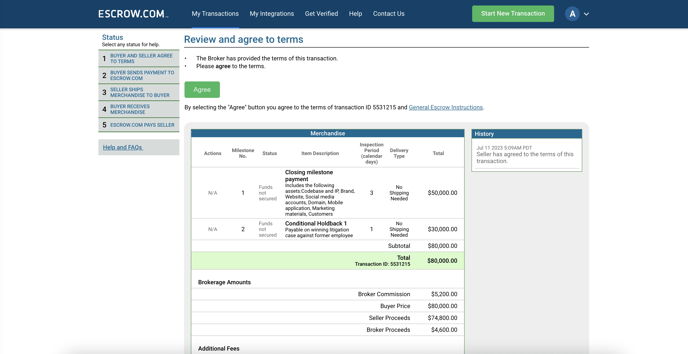 When Escrow.com asks to verify your details, ensure they match those on your signed APA. Otherwise, you might fail verification. For example, ensure the names and how you're signing (individual or company) match your APA.
10. Send your acquisition funds to Escrow.com and await verification.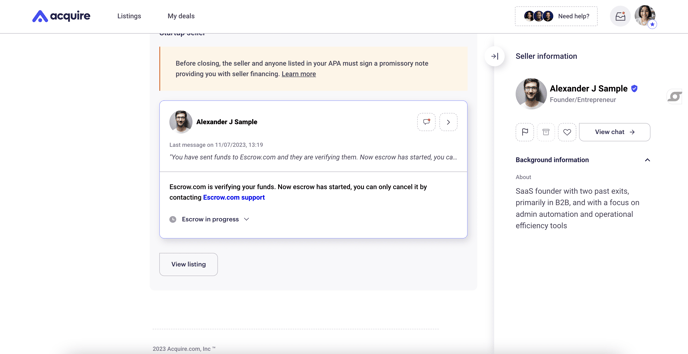 11. We'll email you and your dashboard will update when Escrow.com finishes verifying your funds. Now await the seller to transfer the acquisition assets.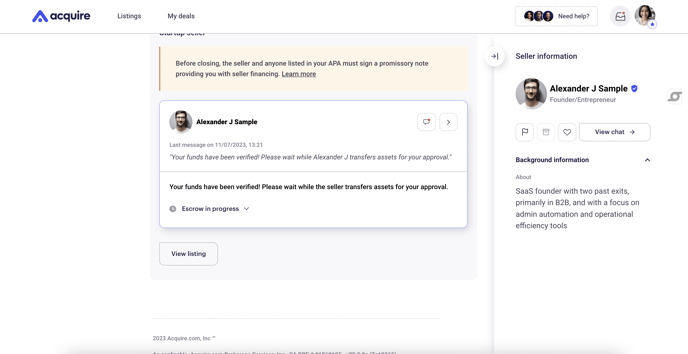 12. When you receive the assets, click Confirm assets received to start your inspection period.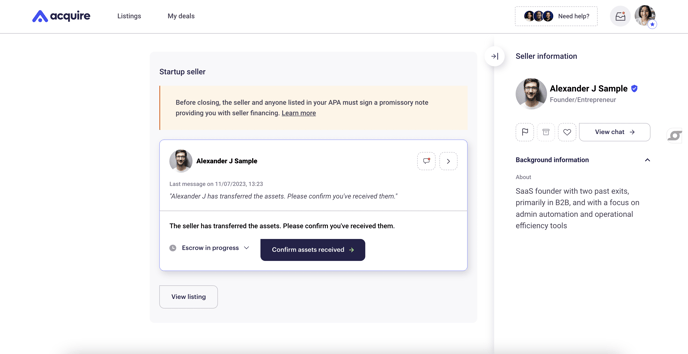 13. Escrow.com will release your funds to the seller when you approve the assets or your inspection period ends, whichever is soonest.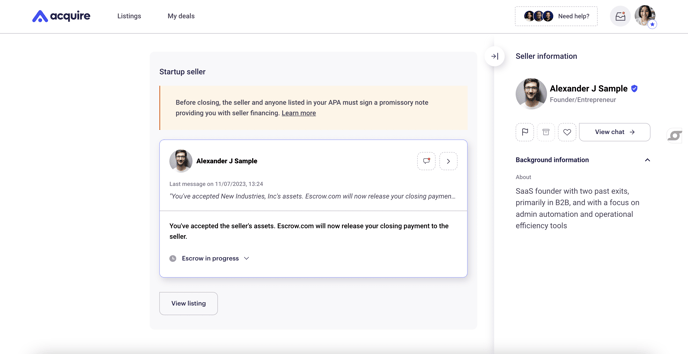 14. Once your closing payment is released, your acquisition completes on Acquire.com – congrats! 🎉
However, you might still have conditional payments to make and you can manage these from your deals dashboard similarly to how you managed the approval of assets above.
The seller will let you know when a condition is met and we'll let you know when a deadline is imminent so you can review the condition and approve or reject payment as necessary.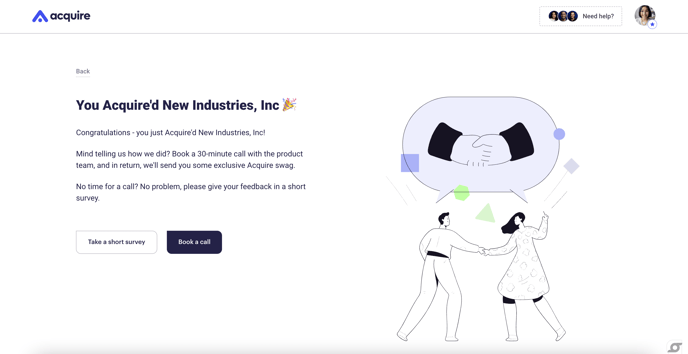 How to manage post-closing or conditional payments
Did you agree to a seller holdback, earnout, or some other conditional payment post-closing?
The seller will request payment when they meet the conditions through Acquire.com. We'll notify you of the request, or if a deadline for payment is imminent, and you can approve or reject the payment from your Acquire.com dashboard.
What happens if you reject seller assets?
You can reject seller assets or conditional payment requests during the agreed inspection period. Then we recommend speaking to the seller to resolve the problem to both of your satisfaction. Talking can resolve most problems.
However, email Escrow.com support if you need help to resolve the issue.
What if you use your own escrow agent?
You're welcome to use your own escrow agent, though we recommend Escrow.com since they're global experts and we cover your escrow fee.
We'll ask you for an email address of your escrow agent while you build escrow details (steps 1-7 above) so we can send them a copy of your APA.
You can also ignore steps 8 and onward since we have no part in the escrow process. However, please mark your startup as Acquire'd once your escrow process ends.
Still need help?
Please search the help center again or contact us at support@acquire.com.