A guide to getting your business prequalified with Boopos to increase your buyer pool
Last updated: July 12th, 2023
You don't have to limit your buyer pool to buyers with ready cash.
Instead, get your business prequalified for acquisition financing. You might then cast a wider net and increase your chances of finding the perfect match, quickly.
Better yet, it doesn't cost you, the founder, anything. Buyers adopt the financing and repayment responsibilities when they acquire your business.
Is your startup eligible for prequalified financing?
To prequalify your startup for financing, it must:
Make at least $100,000 in TTM revenue.
Be trading for at least 18 months.
Make recurring revenue / be subscription-based.
How to apply to get pre-qualified with Boopos
Boopos is our financing partner and could give you an answer in 48 hours.
To prequalify your business, you'll need to upload:
A minimum 18-month P&L statement (three years preferred)
A cohort analysis
1. Click Learn more from your My Listing page.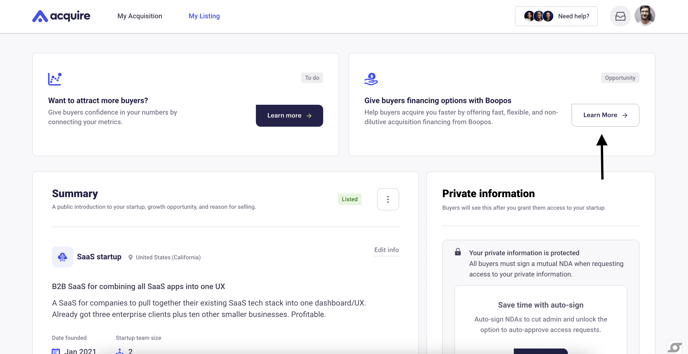 2. Click Get Started Now on the Boopos page.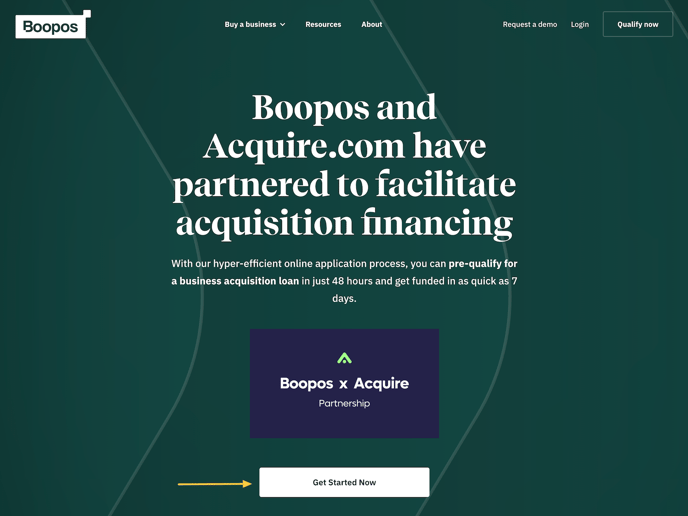 3. Follow the instructions on the Boopos website.
Click the Portfolio section from your Boopos dashboard.
Add your business.
Upload your P&L and cohort analysis.
The Boopos team will reach out to you within 48 hours.
The Boopos support team are very responsive. If you have any questions about the application process or whether your business qualifies, email them at support@boopos.com.
Still need help?
Please search the help center again or contact us at support@acquire.com.