A guide to setting an asking price that attracts buyers and acquisition offers
Last updated: September 13th, 2023
Nothing feels worse than listing your business and getting no interest.
But chances are it's not your business that's the problem – it's the asking price.
Pricing a business you've worked so hard to build is challenging for even serial founders. And poor pricing is the number one reason most startups don't sell.
The good news is that when you sign up on Acquire.com and enter a few basic details, you receive a free market-driven valuation based on 100s of closed acquisitions.
Using real acquisition data, updated quarterly, we'll calculate a valuation range to help you set a realistic asking price. Submit your details and we'll fast-track your listing, too.
Review our pre-approval process below to learn how to receive your recommended asking price. If you'd rather value your business yourself, we've also got tips for accurate valuations.
How to receive a recommended asking price
1. Visit the sign-up page.
2. Enter your email address and password.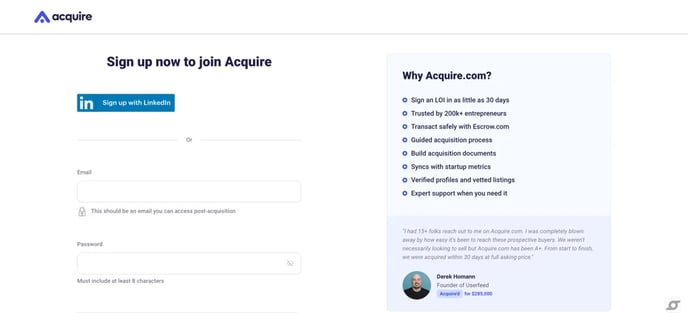 3. Verify your email address.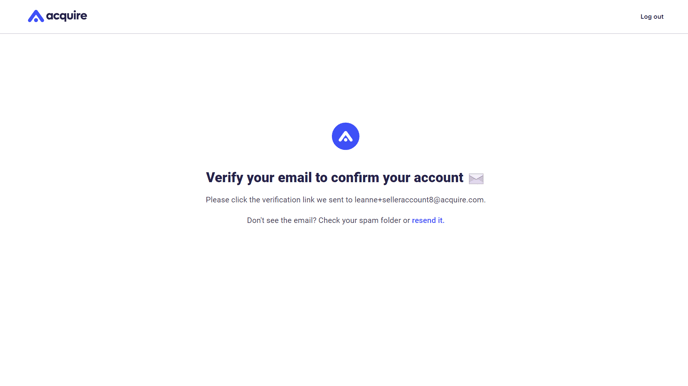 4. Choose
I want to sell my startup
and click
Next.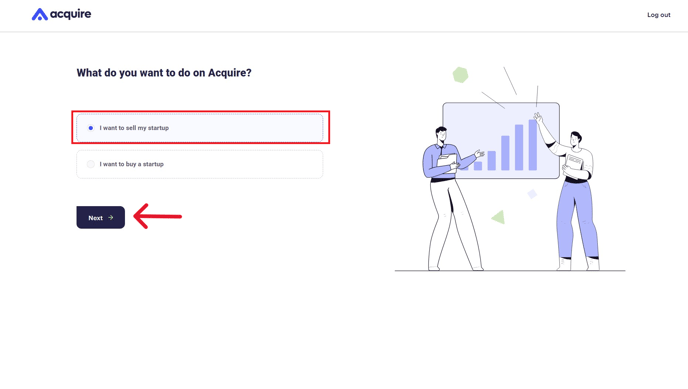 5. Click Awesome, let's go to begin the pre-approval process.
How does pre-approval work? After entering your basic details and setting an asking price, our curation team reviews everything to ensure you're a good fit for the marketplace. Pre-approved startups get listed quicker, fast-tracking your acquisition.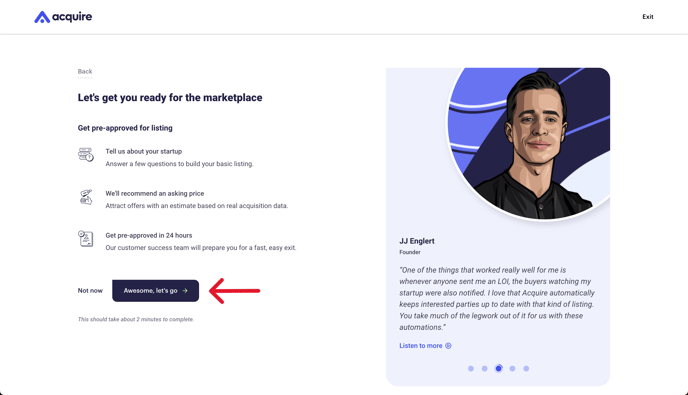 6. Select your startup type and click Next.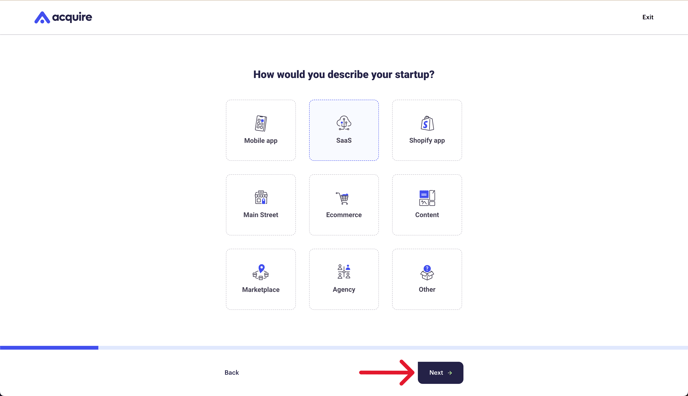 7. Enter a valid website for your startup and click Next.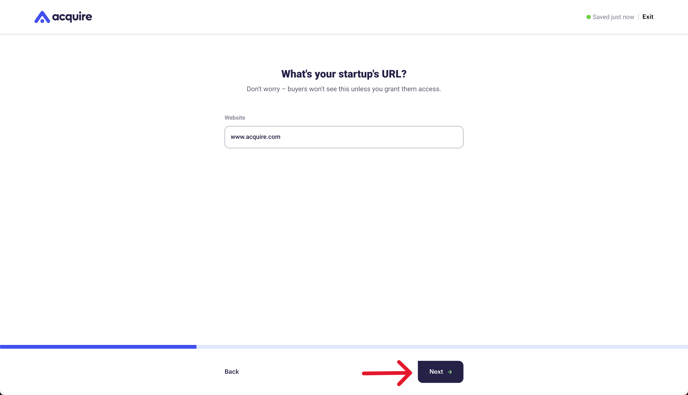 8. Wait while we validate your website and check for your SSL certificate. If you pass both checks, you'll go to the next screen. Try again or contact our support team if you don't pass.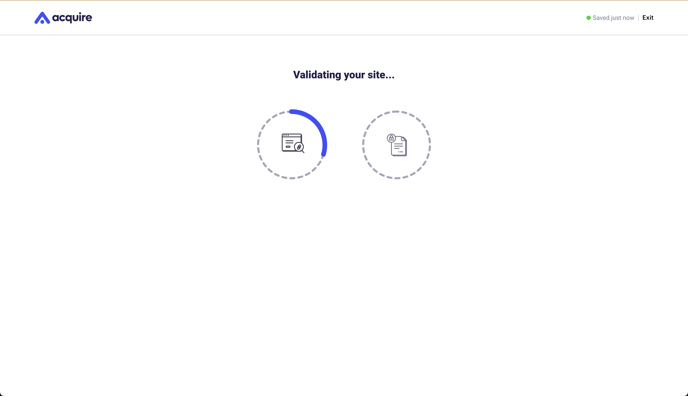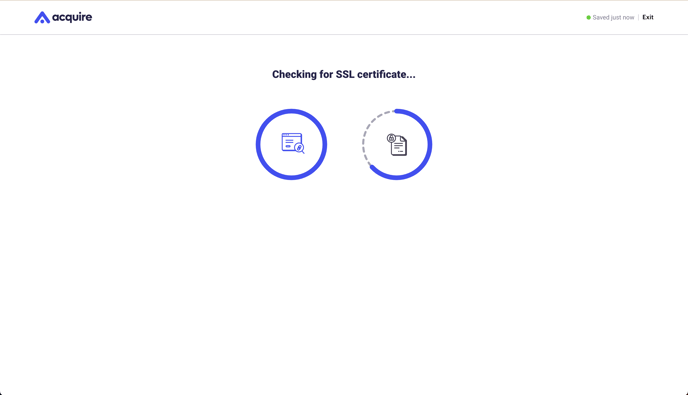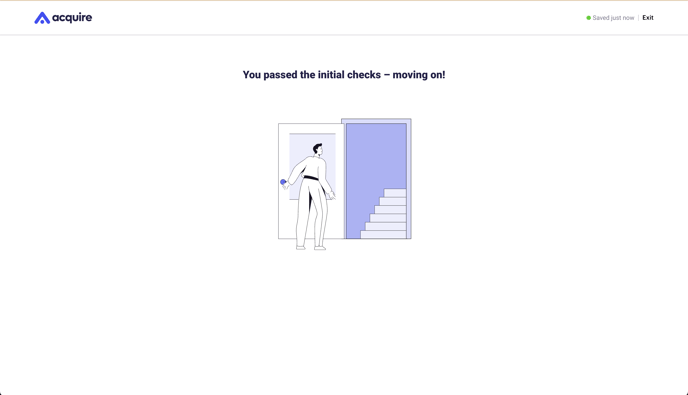 9. Enter your startup's trailing twelve-month (TTM) gross revenue and click Next.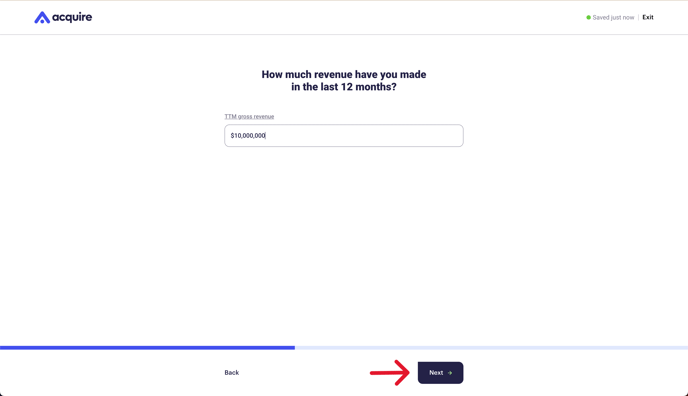 10. Enter your startup's TTM gross profit and click Next.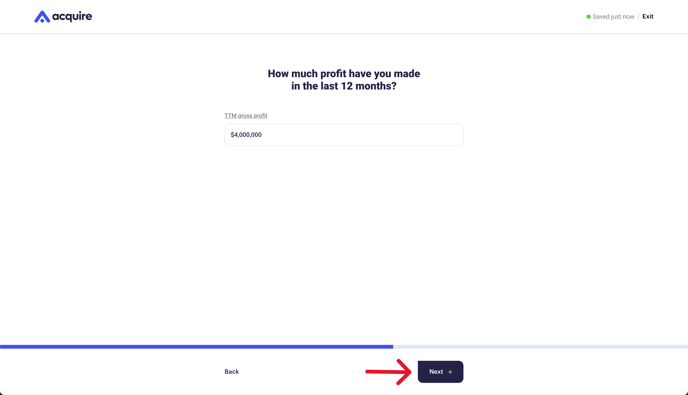 11. Enter your first and last name and click Next. The buyers won't see your name unless you provide access.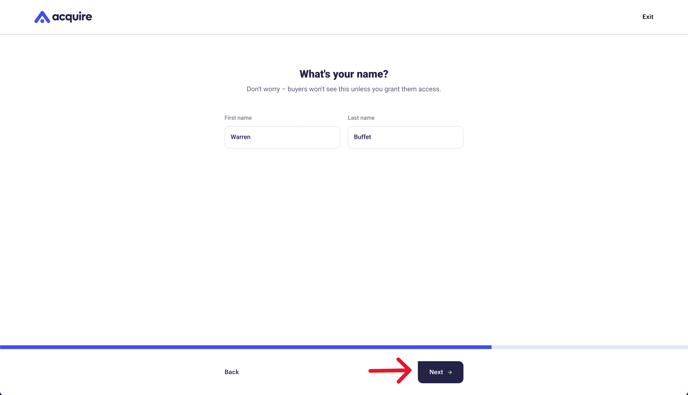 12. Enter your phone number and click See my asking price.
Buyers don't see your phone number unless you grant them access. We collect it to verify you're a real person and not a bot, building trust and legitimacy in the marketplace. Plus, we might contact you with important updates about your acquisition or to help you attract more buyers.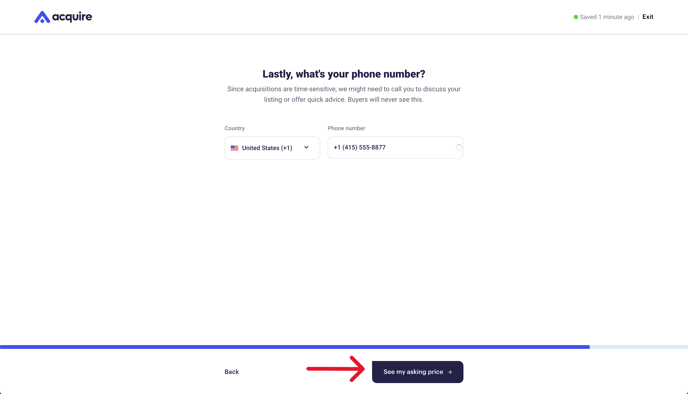 13. Review your recommended asking price. If you approve of the recommendation, click Submit. If you want to adjust your asking price, click Edit.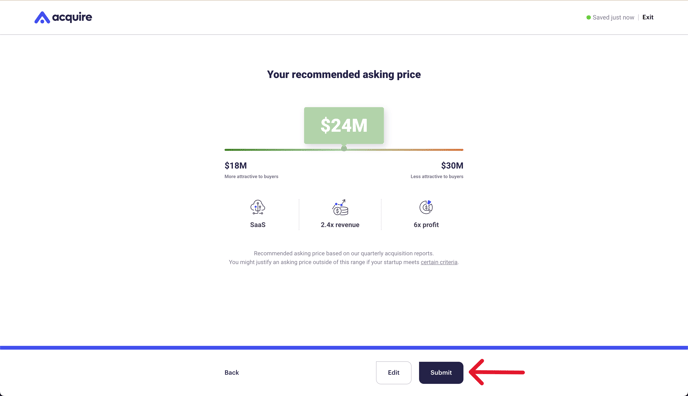 Enter your asking price and click Submit.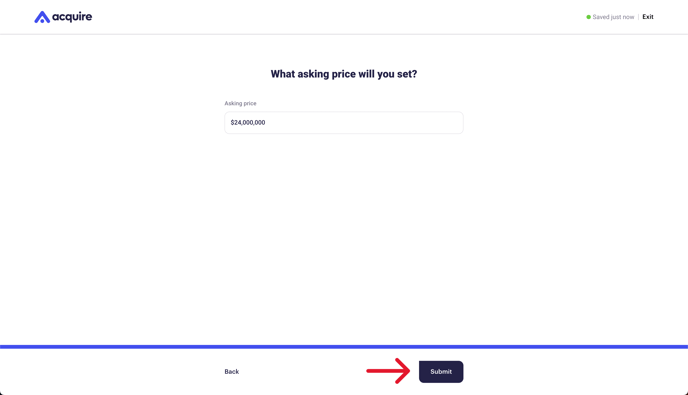 14. Click
Awesome, let's finish my listing.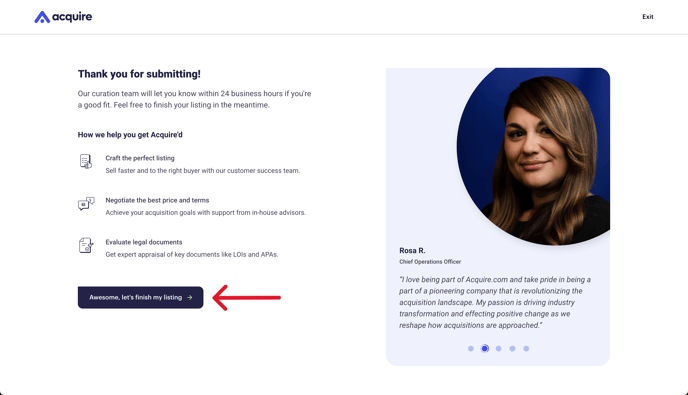 Your ideal asking price will likely fall within our recommended range. If you want to price your startup outside of that range, you may justify it if your startup meets certain criteria:
Rapid growth
A valuable domain
Cash in the bank
Intellectual property
Novel or useful code
Inventory (Ecommerce only)
If you'd rather research and calculate your own asking price, explore the step-by-step process below.
SaaS businesses can also take advantage of our MicroMRR tool to build a valuation based on Stripe metrics.
How to set your asking price
1. Choose the most appropriate valuation methodology from our guide.
If you generate revenue, the easiest and most common is the multiple methodology where you apply a multiple to SDE, EBITDA, or revenue.
SDE = Seller's Discretionary Earnings
This is your profit after deducting operating expenses and cost of goods from revenue but after adding back in your compensation. SDE = (Revenue – Operating Expenses – Cost of Goods) + Your Compensation.
EBITDA = Earnings Before Interest, Taxes, Depreciation, and Amortization
Consider EBITDA if your business is medium to large or generating profit.
Revenue = Your total annual revenue
Consider applying your multiple to revenue if your SDE or EBITDA is zero because you're investing all your spare cash into growth.
2. Check our biannual multiples reports to know the average multiples at which startups got acquired on the marketplace.
3. Choose a multiple that reflects the relative strength of your business against other recently acquired startups of the same category. This must be based on verifiable facts, not feelings.
For example, if your business is a SaaS startup with few competitors and an in-demand product, you might justify a higher multiple. Or, if you've only been in business a year and yet to scale, you might choose a lower multiple.
4. Calculate your valuation.
5. Ask for our help. Our in-house M&A team can help you determine a realistic asking price and help you with selecting an appropriate valuation methodology.
Valuations are part science, part art. To attract the most buyer interest, ensure your asking price:
is justifiable with facts and figures.
is based on the most appropriate valuation method for your business.
reflects the current market and wider trends.
has been sense-checked by our team.
Do all of the above and you're all but guaranteed to generate interest and attract the best offers for your business.
Want to increase your valuation?
Increasing your valuation is possible with a little time and effort.
This guide explains how, but here are the headline strategies:
1. Increase revenue
2. Increase profit
3. Cut expenses
4. Acquire VIPs & partnerships
5. Develop your IP
6. Delight your customers
7. Define your vision
8. Hire a valuation expert
9. Create recurring cash flow
10. Automate everything
11. Prepare for acquisition
12. Test different valuation methodologies
13. Keep clean, organized financials
14. Diversify revenue
It's much easier to increase your valuation a few years in advance of selling than trying to justify a higher valuation now when your business hasn't earned it yet.
Still need help?
Please search the help center again or contact us at support@acquire.com.