A guide to crafting the perfect listing on Acquire.com
Last updated: September 13th, 2023
You'll find everything you need to create the perfect listing below. But for expert guidance on how to make your listing pop, ask a customer success manager to review and score your listing. Contact us at support@acquire.com to learn more.
Creating the perfect listing is the first step in getting your startup acquired.
In our experience, a "perfect" listing (one that gets the most buyer interest) is complete, accurate, and verifiable.
We'll help you by first pre-approving your business for listing and giving you a valuation range we know buyers will support (based on past acquisition data, updated quarterly).
To start, head to our seller sign-up page and click Join now. Below, we'll guide you through the process of building a listing so you can sell your startup quickly and easily.
How to create a seller account and list your startup
1. After verifying your email, click
I want to sell my startup
.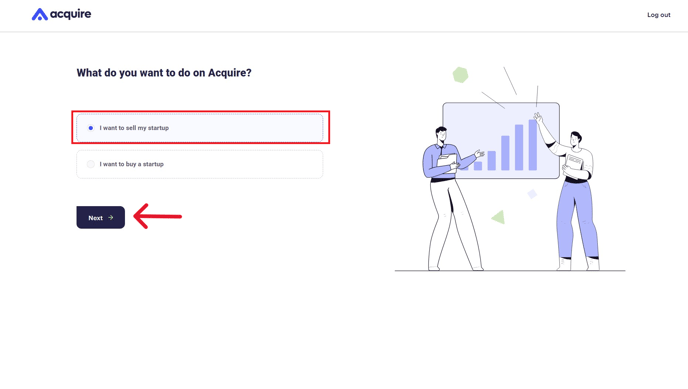 2. Click Awesome, let's go to begin the pre-approval process.
How does pre-approval work? After entering your basic details and setting an asking price, our curation team reviews everything to ensure you're a good fit for the marketplace. Pre-approved startups get listed quicker, fast-tracking your acquisition.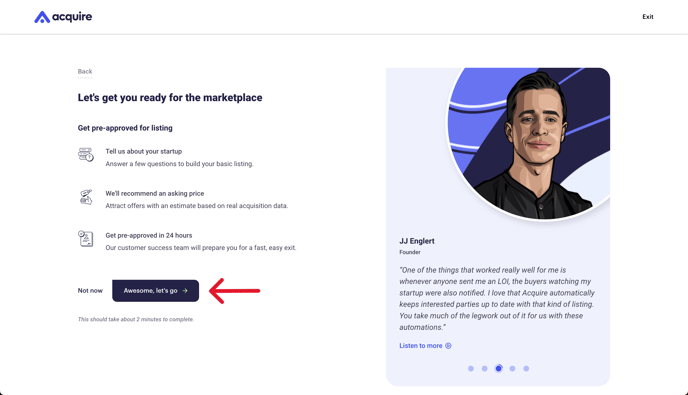 3. Select your startup type and click Next.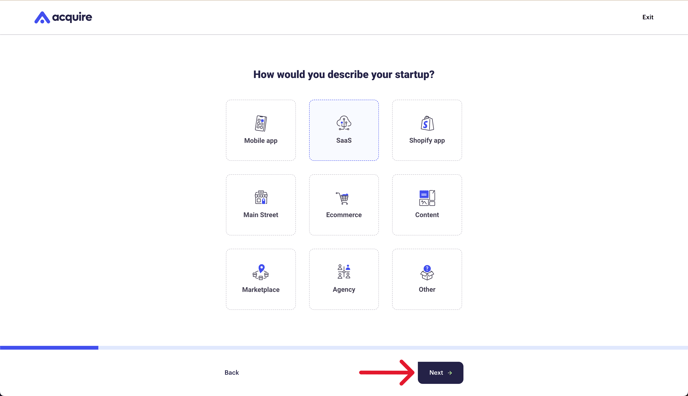 4. Enter a valid website for your startup and click Next.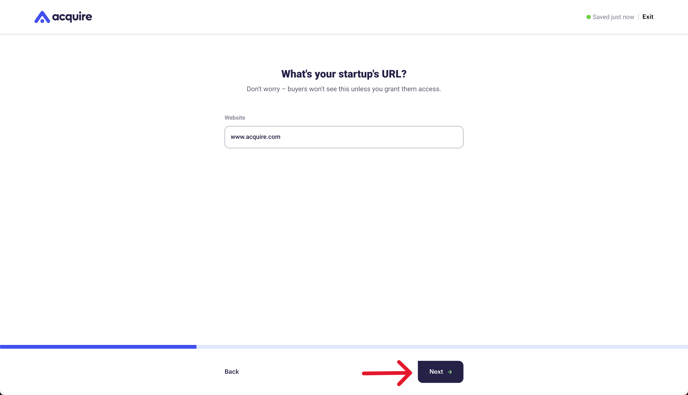 5. Wait while we validate your website and check for your SSL certificate. If you pass both checks, you'll go to the next screen. Try again or contact our support team if you don't pass.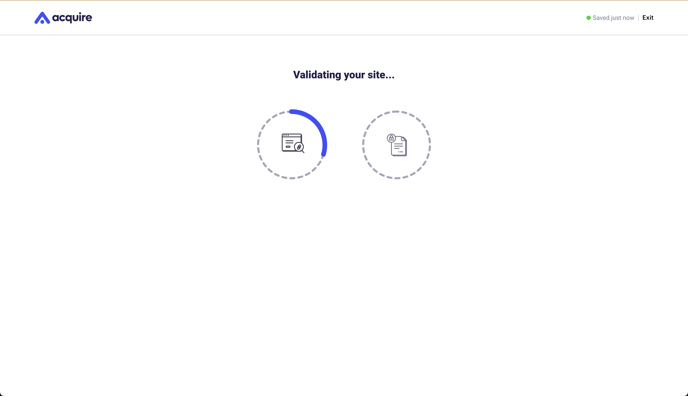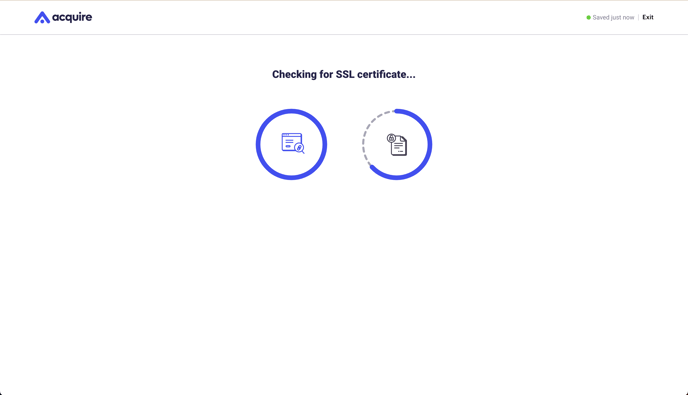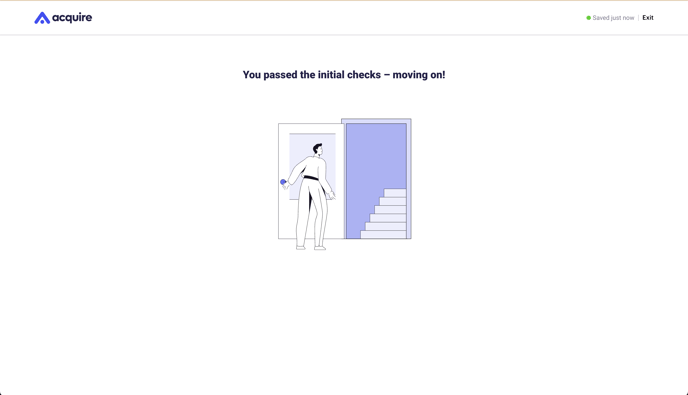 6. Enter your startup's trailing twelve-month (TTM) gross revenue and click Next.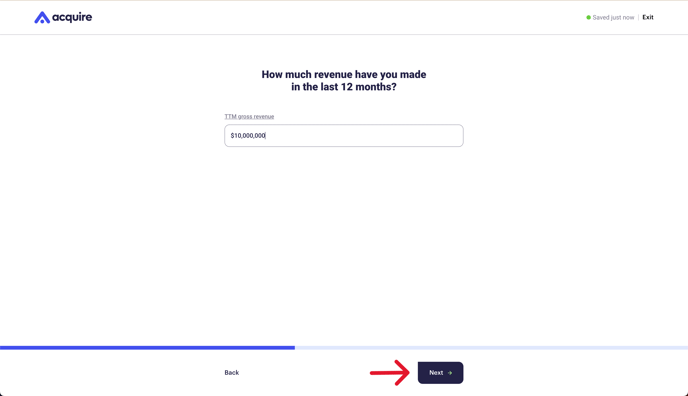 7. Enter your startup's TTM gross profit and click Next.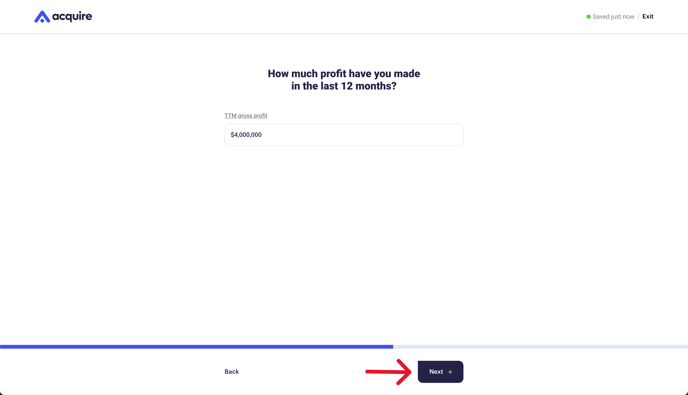 8. Enter your first and last name and click Next. The buyers won't see your name unless you provide access.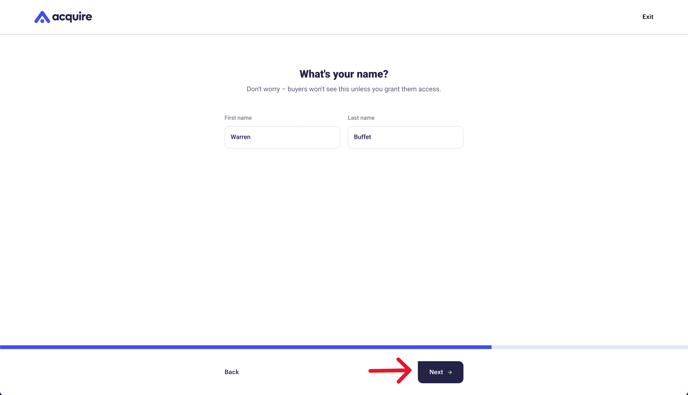 9. Enter your phone number and click See my asking price.
Buyers don't see your phone number unless you grant them access. We collect it to verify you're a real person and not a bot, building trust and legitimacy in the marketplace. Plus, we might contact you with important updates about your acquisition or to help you attract more buyers.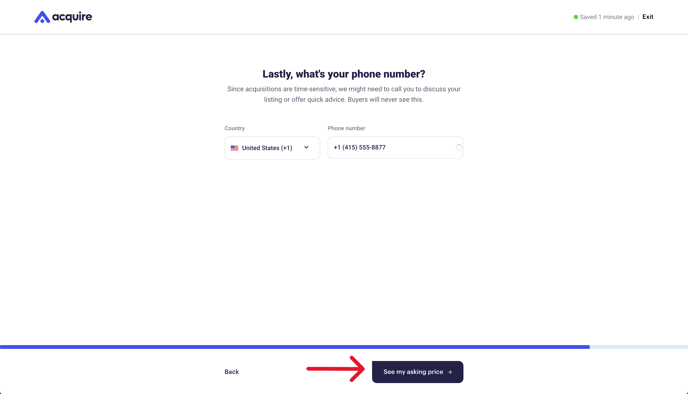 10. Review your recommended asking price. If you approve of the recommendation, click Submit. If you want to adjust your asking price, click Edit.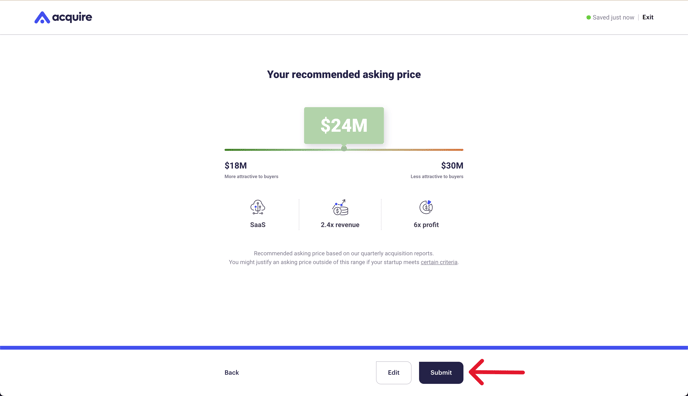 Enter your asking price and click Submit.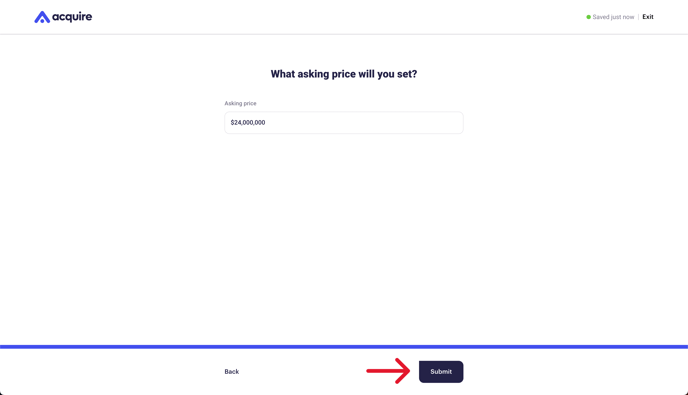 11. Click Awesome, let's finish my listing.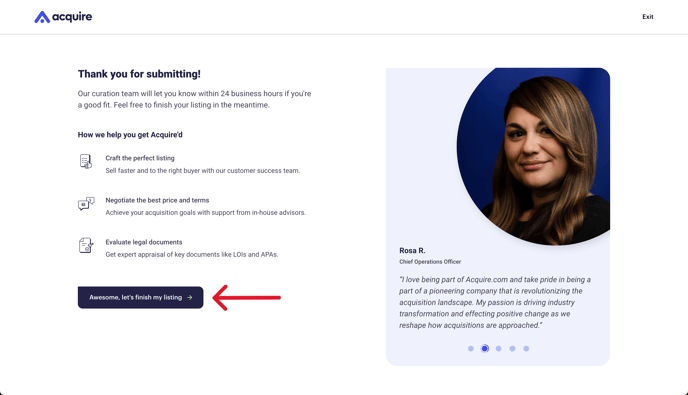 12. Review and accept our Code of Conduct to continue filling out your listing.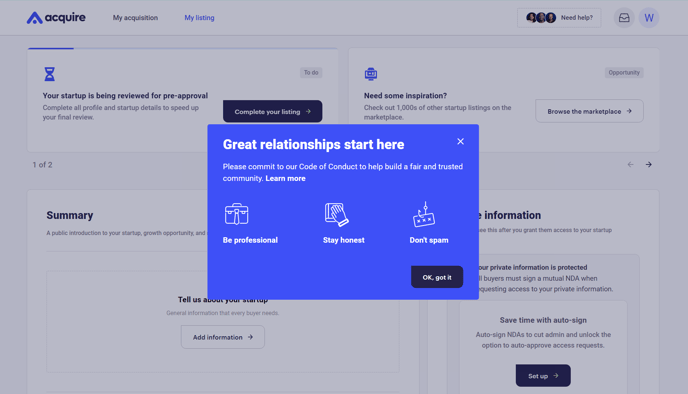 13. At the top of your screen, click Complete your listing.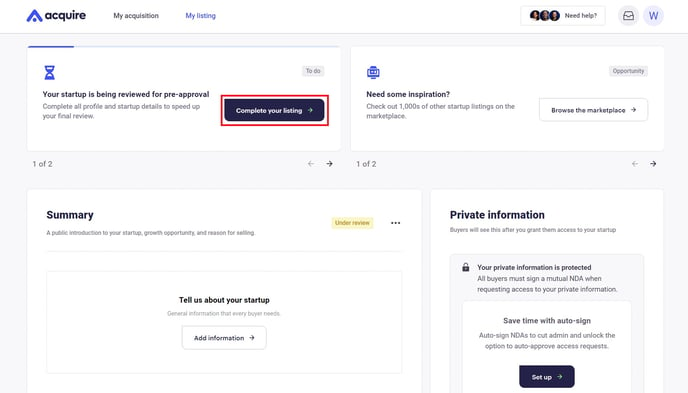 14. Complete your
seller profile
to introduce yourself to buyers. Share the following info:
Your name
Your role at the company
A short paragraph about yourself
Your LinkedIn profile.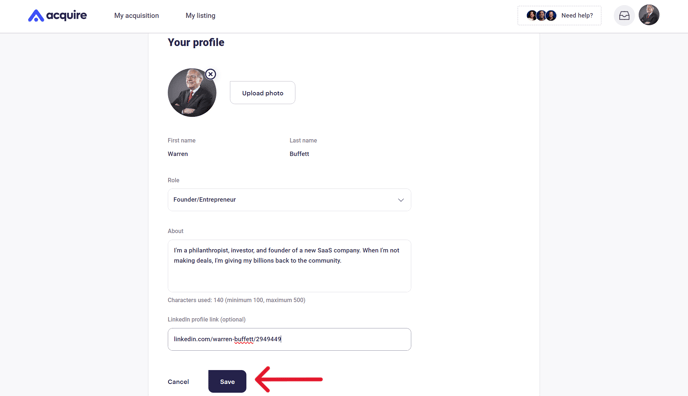 Connecting your LinkedIn profile helps buyers learn more about your background and experience (when you approve startup access).
15. Verify your identity to build trust with buyers. Click the Verify with Persona button to upload your ID and receive the Verified badge on your profile.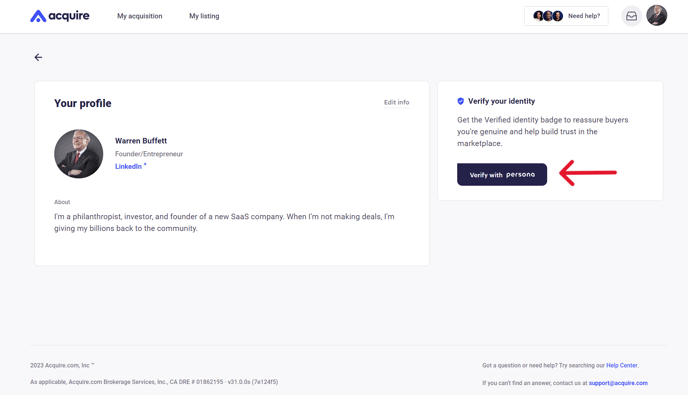 16. Enter your startup's name and adjust your first and last name if need be.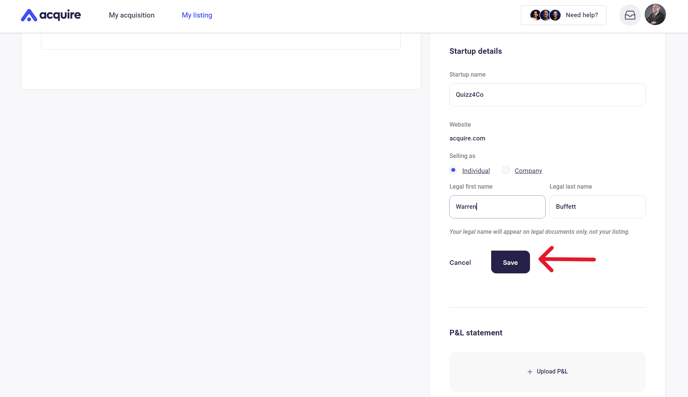 17. Share general startup information that summarizes your business and the opportunity. Include:
The startup type
The startup location
A headline for your startup
Your asking price
Your asking price reasoning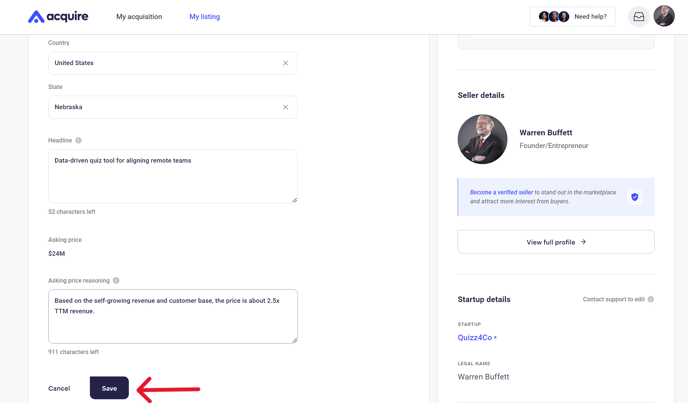 Your asking price is usually the start of negotiations. It doesn't necessarily limit or predict your closing price. Learn more in our guide, How to set your asking price.
18. Add your company overview. Keep it factual, but don't forget to sell the opportunity to buyers. Describe how your startup stands out, including info like:
A description of your startup
The date you founded the startup
The startup team size
Your business and pricing model
Your tech stack
Your competitors
Your growth opportunities
Your key assets
Keywords that describe your startup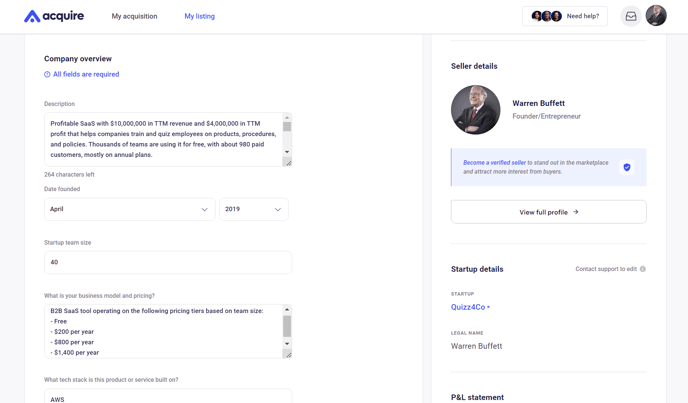 The more detailed your headline and description, the likelier you'll attract your ideal buyer. See our example below for reference.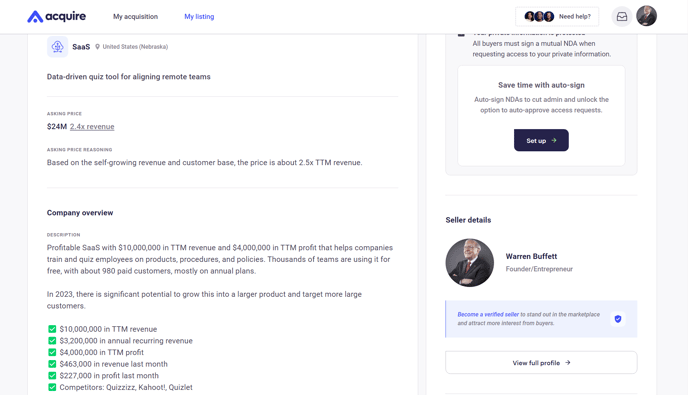 Emphasize your startup's strengths and what makes it appealing to a potential buyer.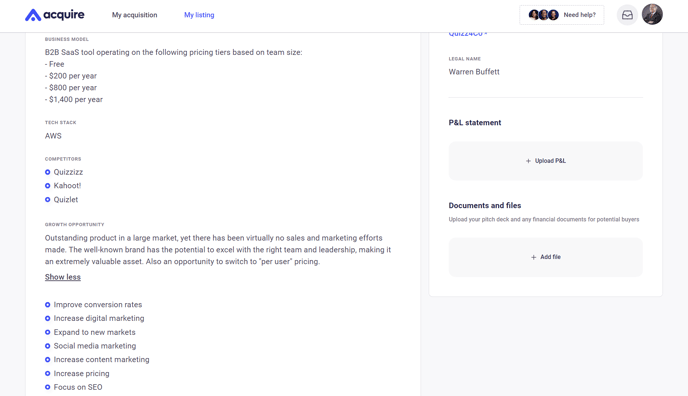 19. Add acquisition details. Explain why you're selling the business and whether you have any funding or debt.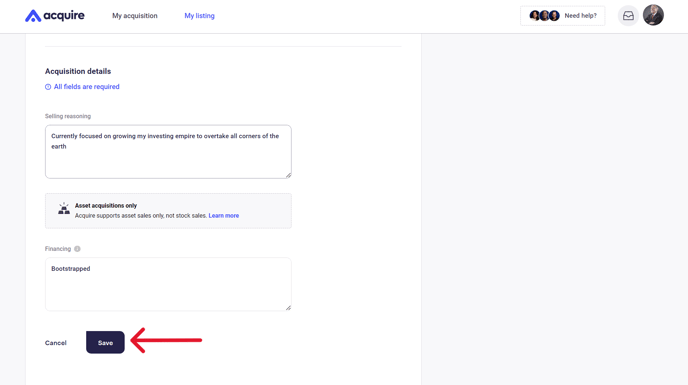 20. Connect your financial metrics by clicking Connect metrics under Financials. If you can't connect them, upload a P&L (buyers will want to see this) and enter your TTM gross revenue, TTM net profit, last month's gross revenue, and last month's net profit manually.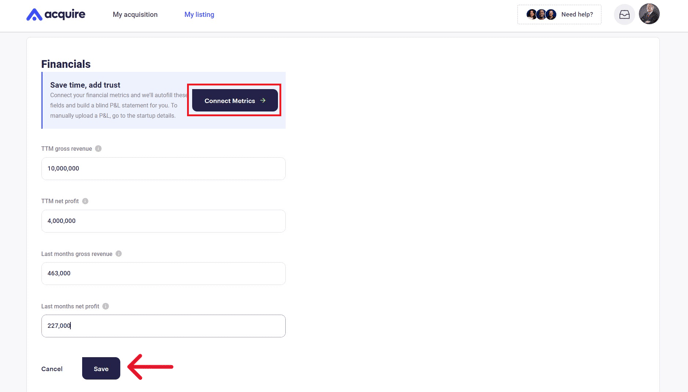 21. Connect your customer and web metrics by clicking Connect metrics under each category.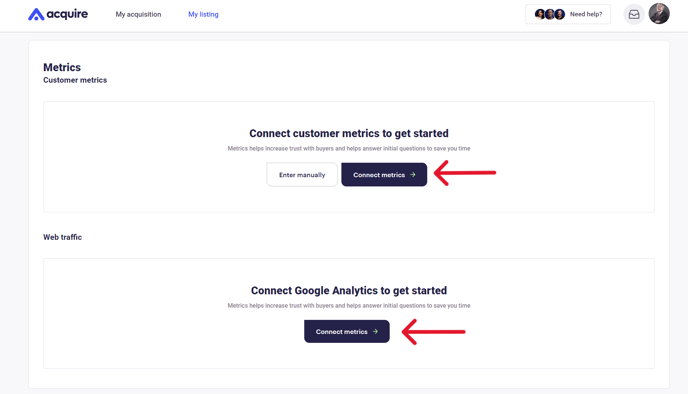 If you can't connect your customer metrics, enter your number of customers, annual recurring revenue, and annual growth rate manually.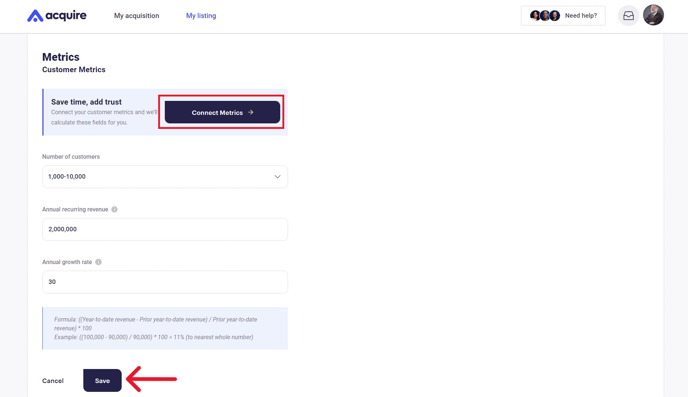 Buyers will then see snapshots and performance charts in real-time, updated regularly.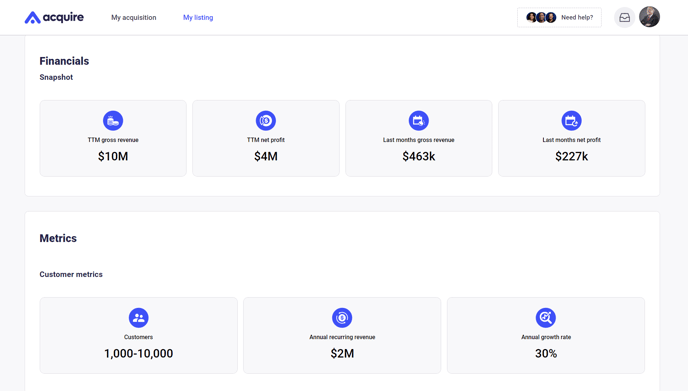 22. Upload a P&L statement to provide more financial information to prospective buyers. We recommend including a P&L even when connecting metrics so buyers can see you track critical financial information.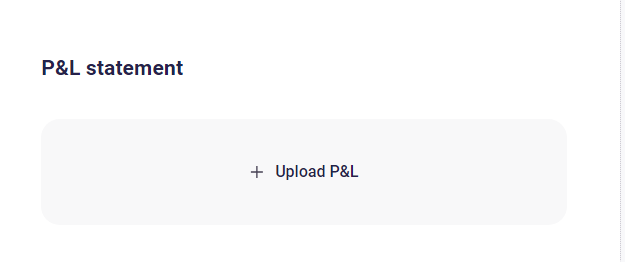 23. Add documents and files to your listing that buyers might find useful. These documents should convey the value of your company to persuade buyers it's worth pursuing. Consider additional documents like:
Pitch decks
Product demo decks
Asset valuation estimates
Customer testimonials
More charts, diagrams, and analyses related to your business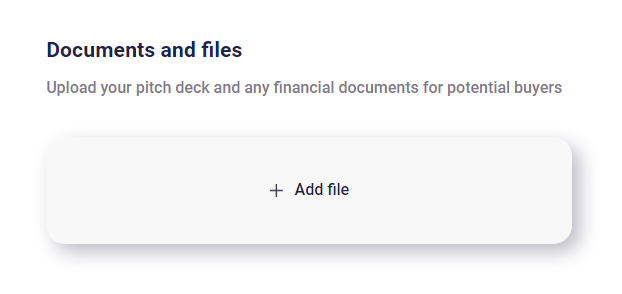 24. Click Submit your listing to send your listing to our curation team for review.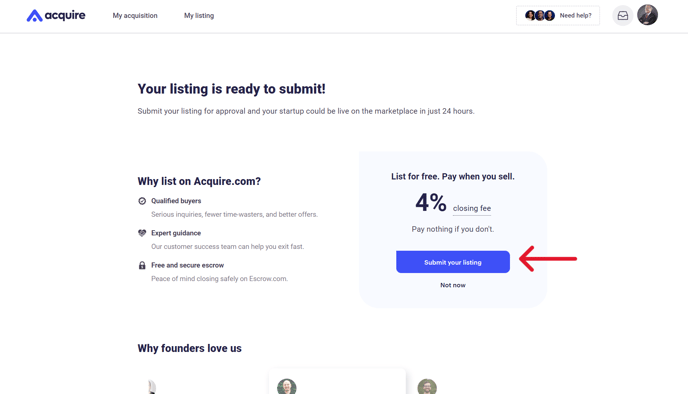 Once you complete your listing, our curation team will review it. Rejected startups receive an explanation of why it was rejected while approved startups go live automatically.
You can edit your listing once it goes live, but any changes will go through our curation team so we can maintain the integrity of the marketplace. On average, it takes one business day to review new or edited listings.
Still need help?
Please
search the help center again
or contact us at support@acquire.com.